July 2021 - What's New
What is WorkStep solving for you in this release?
Reducing Turnover - Understand those investments that will have the most meaningful retention impact with our new Opportunities page.
Critical Alerts of Urgent Issues in Real-time - Uncover and solve urgent issues before they create turnover events with our improved Alert Management.
Maintaining Engagement & Retention - Keep a finger on the pulse of the productive, tenured teammates with Recurring check-ins.
Engaging Your Full Talent Leadership Organization  - Know who has access to WorkStep and easily invite those who would benefit from using it with an improved Team page.
Please note: The following product updates are for all workStep customers. If you are a WorkStep HIRE customer, the WorkStep RETAIN data helps you retain your employees you hired using the WorkStep HIRE platform.
Are you investing in turnover reduction? Do you know which initiatives will have the biggest impact? 
Now you will with our new Opportunities page
Our new Opportunities page has been developed to help you better understand which initiatives will have the biggest impact on your turnover reduction. It easily turns data into real-time actionable insights by highlighting the areas to focus on.
So what's new? Previously the Opportunities page required more data to populate, including 90 days of turnover data. The new Opportunities page provides opportunities for improvement that can be calculated with a smaller data set. The Opportunities for Improvement insights is based on both your comparison to the industry, and Turnover Reduction. For more information, visit our Knowledge Center.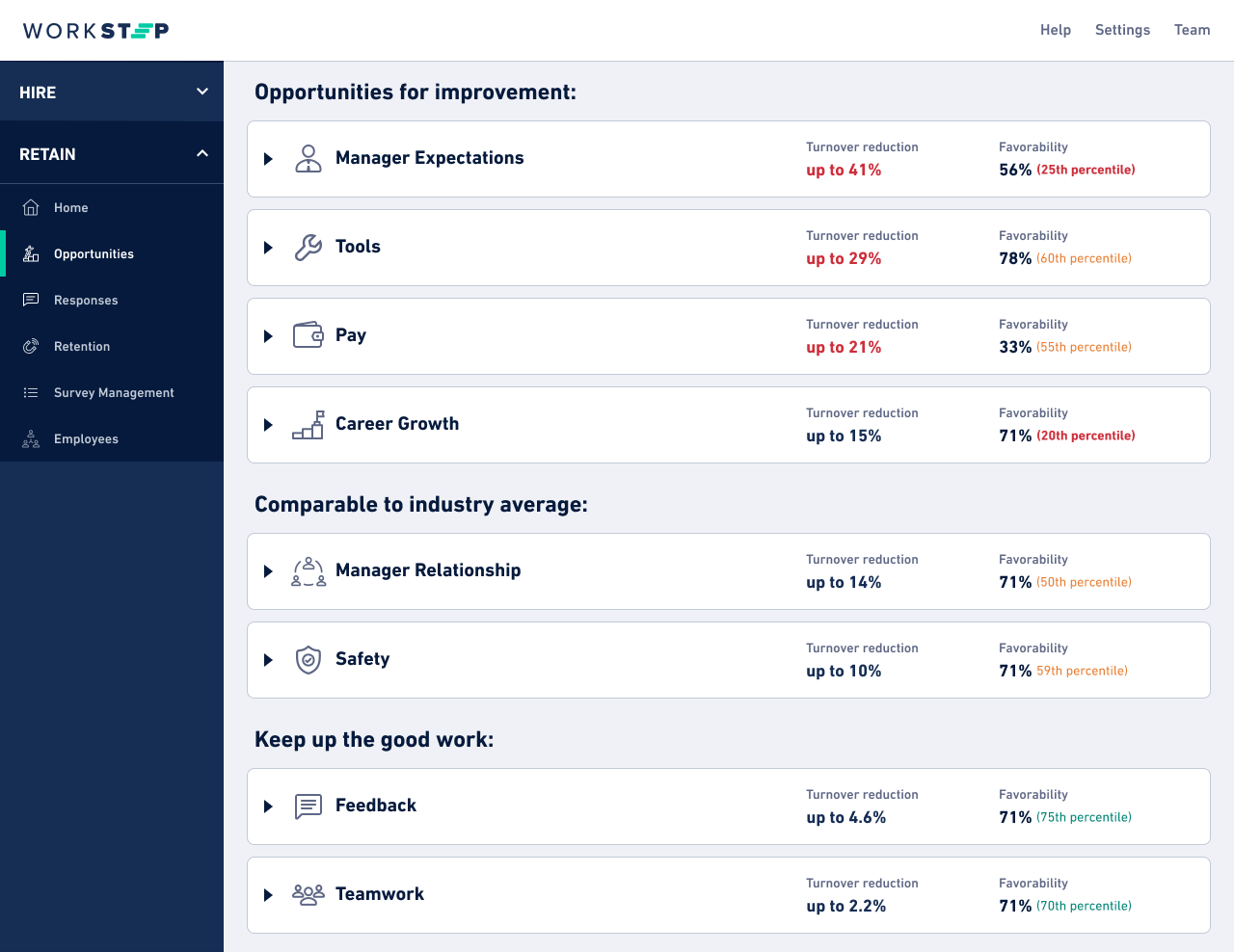 Be In The Know! Get Instant Alerts Pertaining to Pay, Discrimination, Union or Safety Issues 
New Alerts Functionality Seamlessly Flag Urgent Comments
When pay, discrimination, union, or safety issues come up, leaders need to hear about it right away - often they are hearing about these things too late. We built Alerts to flag the most urgent comments that also often have legal implications. These are usually preventable issues that can be addressed immediately.
So what's new? When an employee shares a comment about pay issues, discrimination, harassment, safety, union concerns, or lack of tools, the system flags the feedback as an Alert. This allows you to respond faster to issues before they escalate and affect operations - allowing you to be proactive vs reactive. With Alert Management 2.0, you can now assign alerts to specific team members, reply to comments, resolve alerts, and track the resolutions all in one place. For more information, visit our Knowledge Center.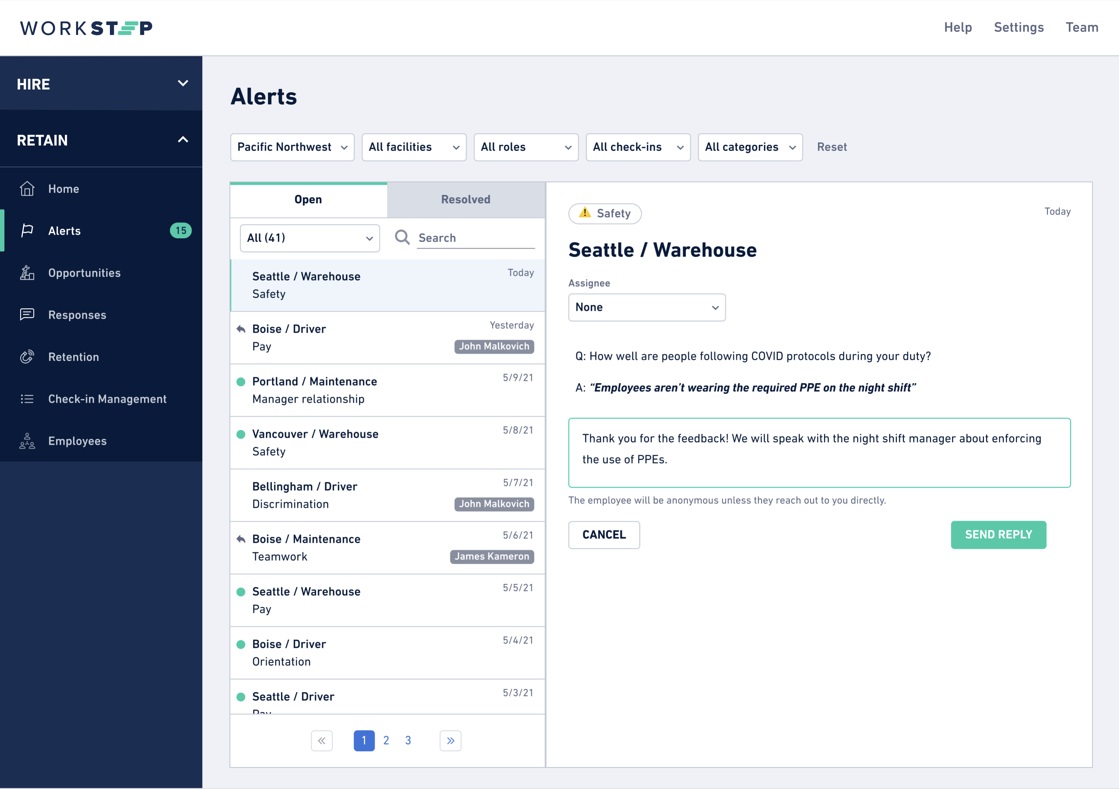 Increase Retention & Engagement Across the Employee Lifecycle
Setup Recurring Check-ins For All Employees Every 90 Days
The only thing more frustrating than losing a new employee is losing a tenured employee. Agree? That's why we want to maintain engagement and retention across the employee lifecycle by offering the ability to send recurring check-ins to all employees every 90 days after the other WorkStep milestones are completed. We all know the highest turnover happens during the first 90 days, and once an employee hits their 90-day milestone, retention improves. However, once an employee has been at the company for more than 90 days, their efficiency and productivity increase, so there is more value in retaining the longer-tenured employees.
The recurring check-in will give you the tools to focus on these higher-value employees who have been at the company longer. For more information, visit our Knowledge Center.
Roll Out WorkStep Across Your Organization & Know Who Has Access To Support Your Talent Acquisition & Retention Strategy
Via Our New Team Page
Our WorkStep customers want to disseminate the data and insights gained from WorkStep across their organization - so that every general manager, facility manager, operations manager, and HR leader has access to the data. To make it easier to roll-out WorkStep to your entire organization, we have updated the Team page. The new Team page makes it easier to see everyone in your organization that has access to WorkStep, and what their access level and activity is. For more information, visit our Knowledge Center. 

Have Questions or Feedback?
As always, we are here to answer any questions you may have, as well as eager to discuss any potential feedback, so please do not hesitate to reach out to me or your WorkStep representative.
Thanks for being a valued WorkStep partner!
---
---