Exporting and Sharing RETAIN Data
We know that much of the data you collect through RETAIN would be beneficial to share to other teams throughout your org. There are a few places where you'll be able to export, share, or download the information to distribute as needed to users outside of RETAIN or for your own data management.
Settings:
For Administrators, the Team page content is available to export to help support the management of your users:
Once logged into the WorkStep platform, open Settings in the top right corner of the page
Choose Team
Select the download icon next to Invite a team member

Insights:
Each focus of the Insights feature will be available to download and share in-platform. Look for the download icon in the top right corner of each area to download the data as a PDF.
Favorability
Responsiveness
Reachability
Retention
You can choose Copy Link to share the exact page and data with another WorkStep RETAIN user, or you can Export the data to CSV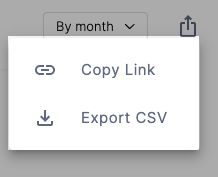 If the data set for a particular focus is too small and risks anonymity, the export CSV option will not be available.
Feedback Section:
All comments will be available to export to CSV. As of 9/20/22 the CSV file export now includes columns showing any translated comments, untranslated comments, and the language in which it was submitted. To export all comments, click the EXPORT link in the top right of the page:

---
---