Employee Roster Sync
You can automate the import of your employee data using an HRIS scheduled report. This is an easy and automated way to import the employee data needed in WorkStep. For WorkStep RETAIN, an HRIS scheduled report is required to enable check-ins and retention insights. For WorkStep HIRE, an HRIS scheduled report is highly recommended to automate the reconciliation of hires and terminations, saving you time.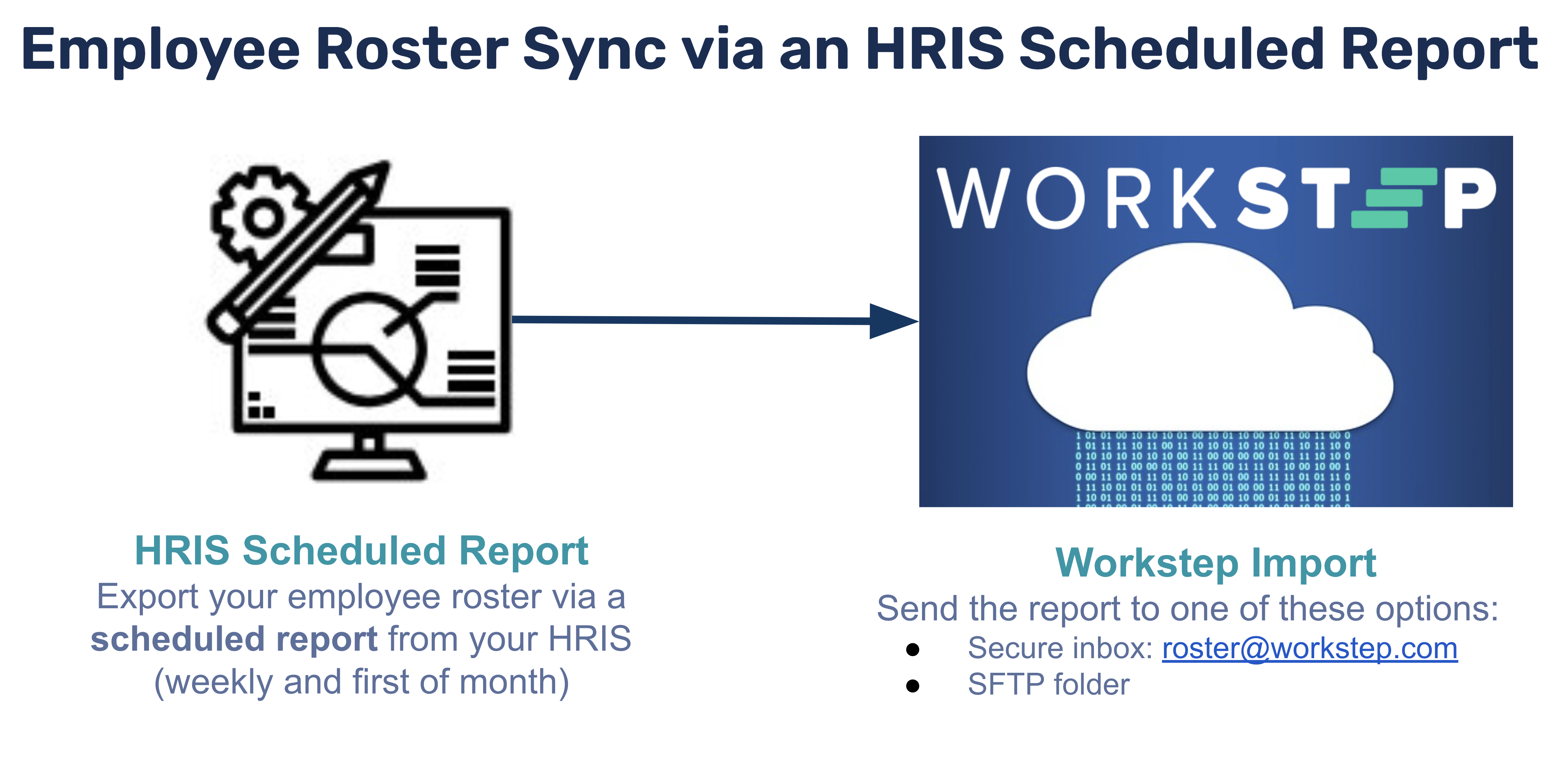 Frequency: The Hire and Term Report should be sent weekly so data is kept current. It doesn't matter which day of the week the file is sent as long as the file is sent the same day every week. This keeps your data current. Sending an automated scheduled report cuts down on the manual work required to send the file each week.
Delivery methods: The file can be sent to WorkStep via secure email inbox or SFTP. Files delivered to these locations will be processed by the WorkStep system.

Secure email inbox: send the file to roster@workstep.com
SFTP: To get SFTP credentials and access information, send an email to security@workstep.com

Supported formats: WorkStep supports all of the common file formats for the employee file.

CSV (preferred)
TSV
Excel (XLSX, XLS)

Scheduled Report Template: Please follow the WorkStep template for the scheduled report for faster processing by the WorkStep system. Download the template here.
Historical data: for WorkStep RETAIN clients who would like to see retention data over time, you can send up to 12 months of historical data that will be used to populate your retention charts.
Check the status of the file in WorkStep
To see the status of the Hire and Term Report once received by the WorkStep system visit: Data Upload History
FAQ
Q: Sometimes we are missing employee phone number and/or email is that an issue? A: 100% coverage for phone number and email address is not required, however, the more contact information you have for employees the better. Employee contact information is used to improve retention with employees using our data science-backed WorkStep RETAIN solution.
Q: What if we don't have an HRIS? A: The data can be exported from any workforce management tool that you are using to track your employees with their start and termination dates.
---
---