Check-Ins Overview
WorkStep RETAIN Check-ins
Check-ins are used to engage your workforce and enable you to listen to and take action to resolve opportunity areas in your organization. Check-ins are sent during employees' critical employment milestones to help reduce turnover at these milestones and gauge how your employees are doing. The Check-ins page in-platform will display all enabled and disabled check-ins, amount of questions for each one, responses/sends and response percentage.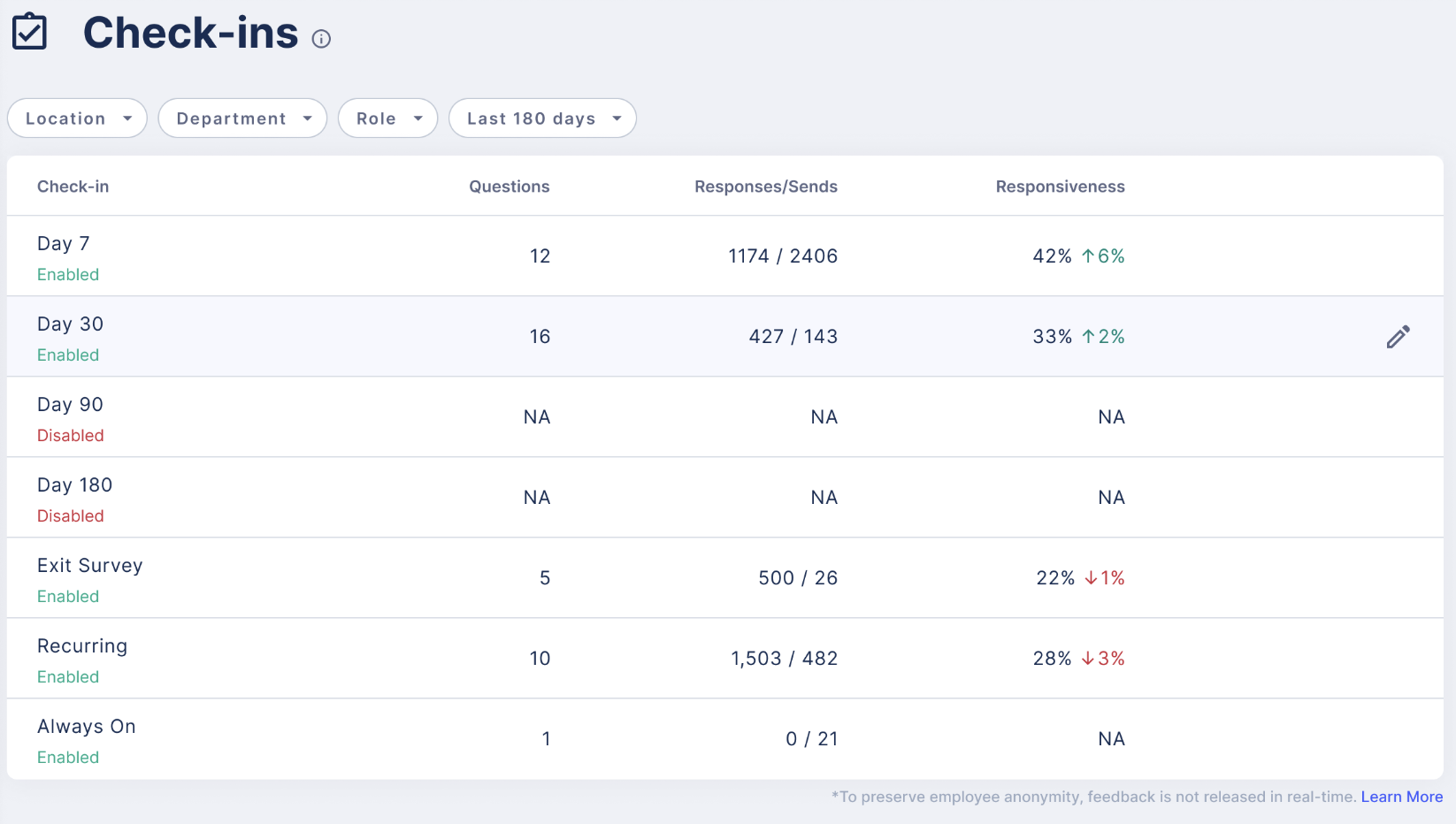 Check-ins are sent at the following employment milestones: 
7-day
30-day
60-day
90-day
180-day
We also send these check-ins:
Exit check-in: when the employee separates from the company for both voluntary and involuntary separations. 
Recurring check-in: sent every 90-days after the other milestone check-ins are completed to track the employee's satisfaction across their employment lifecycle. 
For a complete list of all questions visit: WorkStep RETAIN Check-in Questions
Additional Info:
All responses are confidential. We protect the identity of employees so they feel comfortable giving honest feedback. Each employee has the option to opt into sharing their identity on a question-by-question basis, which will appear at the end of their feedback if chosen.
Each check-in contains 12-16 questions.
All questions have been tested for their correlation to retention. We review the results associated with questions and outcomes each quarter to make improvements.  
Responses from partially completed check-ins will be recorded in the system. 
Users can return to answers and questions they have not completed. Reminders will be sent for check-ins that have not been started, as well as check-ins that are partially completed. 
Users are not able to modify previously submitted responses. 
Check-ins are sent at 2 pm local time while welcome emails are sent at 5pm EST. 
Responders are able to skip questions. Selecting to skip a question will count towards completing the check-in. 
Language Availability
RETAIN check-ins are available for employees in the following languages:
English
Spanish
French
Portuguese
Vietnamese
Korean
Mandarin - Simplified
Cantonese - Logographic
Tagalog
S'gaw Karen
Punjabi
Once the language of preference has been selected, all future check-ins will be sent in their language of choice. This can be updated at anytime.
Delivery Methods
Check-ins are sent via text message and email if the employee has a mobile phone number and email address details available. 
The email address from which employees will receive email check-ins: feedback@workstep.com
The phone number from which employees will receive SMS messages: +1-833-409-8422.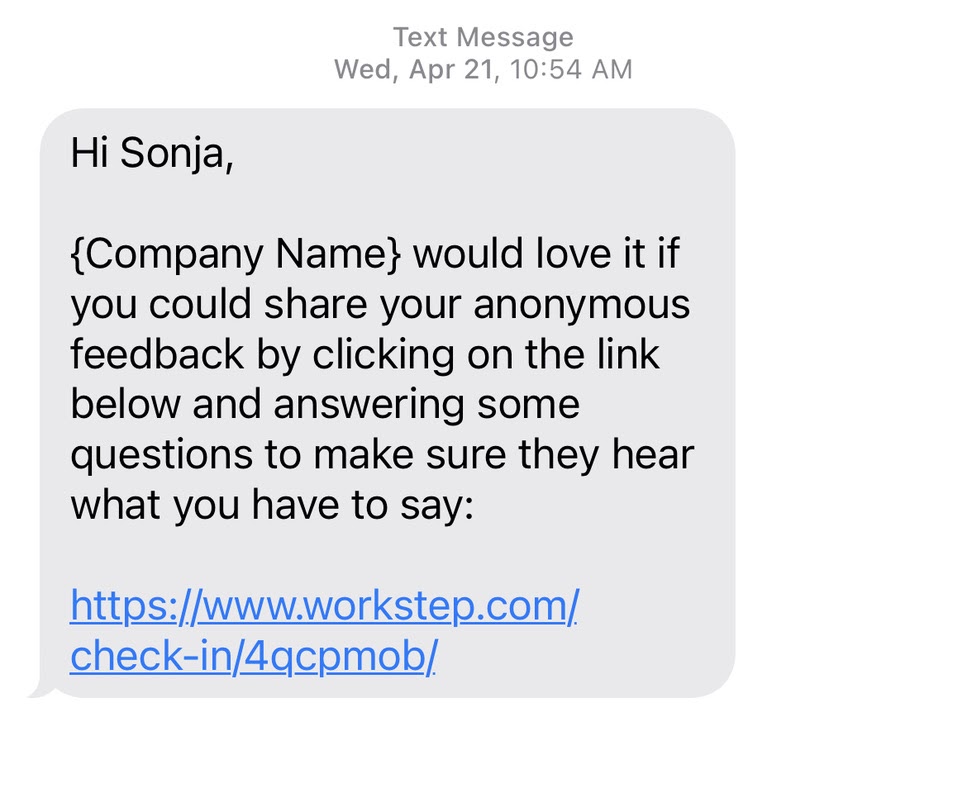 WorkStep Introduction Email
Once check-ins are enabled, welcome emails will go out to all imported (and non-termed) hires within approximately 24 hours of the initial Hire & Term Report upload. This email will be letting them know they will begin to receive check-ins at key employment milestones. Check-ins will begin to be delivered to newly added employees according to their tenure after they've received the introduction email.
Reminders
If the employee does not respond to the first request, then the system will send reminders for up to 5 days after the initial request.
A total of 4 reminders are sent if a check-in survey is not completed, two via email and two via sms. The check-in survey is sent initially via email. The first reminder is sent via sms, second reminder is via email, third via sms, and last one via email. For recurring check-in surveys we send the check-in via both, first reminder via both, last reminder via email only.
Exit Check-in
Every employee who has a termination date will receive their exit survey within 24 hours of receiving the Hire and Term report if the termination date is in the past. If the Hire and Term report has a termination date for a future date, the exit survey will go out within 24 hours of the termination date.
This includes both voluntary and involuntary terminations. If the termination reason is included in the data file from the HRIS, then you can filter Exit check-in responses by termination reason. To filter by termination reason, select Responses > select to filter results by "Exit survey" > then you can select a small drop-down arrow to filter by Voluntary or Involuntary terminations.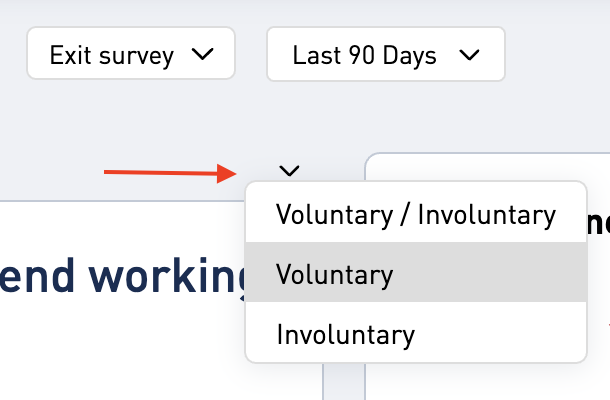 Company Branding
By default, all WorkStep check-ins, check-in emails, and check-in SMS messages include your company name and logo. Employees are more likely to respond to check-ins when they identify the brand the check-in is coming from. Messaging and branding emphasize that feedback will be used to improve working conditions for the employee at your company.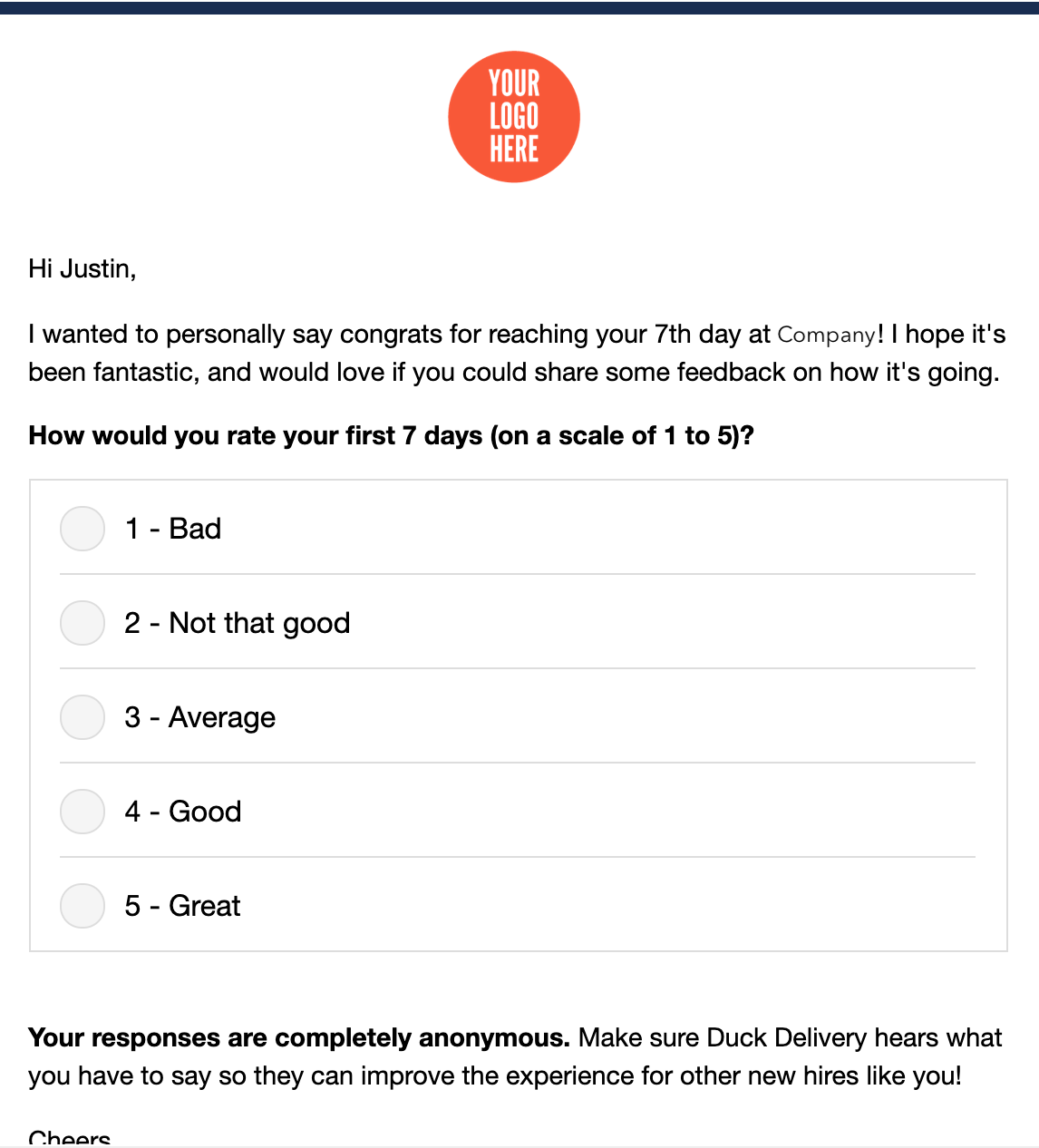 How Confidentiality Works
Protecting the identity of the feedback we collect is key to gathering the most candid and insightful feedback possible.
Whenever a category has fewer than three responses, the responses are hidden. For example, if you filtered by a role, facility, or check-in, and the filtered results returned fewer than three responses, the responses are hidden.
Responses are never displayed on the same day they are collected. Recent comments will include comments received yesterday but will not include comments received today.
How Opt-Out Works
Employees who receive check-ins are always given the option to opt-out. When an employee selects to opt-out, the employee will no longer receive future WorkStep check-ins.
SMS Opt-Out: If an employee opts out of the SMS message, the employee will no longer receive SMS check-ins from WorkStep, however, the employee will continue to receive email check-ins.
Email Opt-Out: If an employee opts out of email check-ins, the employee will no longer receive email and SMS check-ins.
Employees who decide to opt back into receiving WorkStep surveys can text START to the WorkStep phone number +1-833-409-8422
Check-in FAQs
Q: An employee says they did not receive a check-in, do we know if the check-in was sent? A: The WorkStep system sends check-ins at the above-described milestones consistently. However, it's possible that a check-in was not received if the contact information for the employee is not accurate or if the employee has opted out of check-ins. Sometimes employees receive the check-in but don't recognize it as being a WorkStep check-in. Informing employees of WorkStep check-ins will increase recognition and improve response rates. Click here for more information on Best Practices to Improve Response Rates
Q: How long do the check-ins stay valid, including the Exit survey? A: The Check-in link will stay active until the next check-in is sent. If an old check-in is incomplete and the employee tries to access the link, it will redirect them to the most current check-in instead. In the case of Exit surveys, those do not expire. The link will maintain validity indefinitely.
Q: Do check-ins get sent on weekends or just Monday - Friday? A: Check-ins are sent on both weekdays and weekends.
Questions? Reach out to our support team at 
(213) 377-0974
 or email us at 
employers@workstep.com
.
Open training sessions are available! Looking for some help getting started with WorkStep? In need of a refresher on best practices or feature functionality? Join us for one of our biweekly trainings 
by RSVPing here
!
---
---